Guitar Practice Master Class

–

Guitar Progress Multipliers. (Use When Your Practice Time Is Most Limited.)
---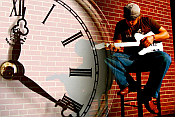 Learn never-before seen secrets on how to squeeze the last drop of results from each minute you practice.

This video master class reveals:

1. The 3 ways to tell if you are practicing incorrectly. This allows you to
stop "making things worse" & start making things better… a LOT better.

2. Time-saving tips that crush bad habits, mistakes & problems in your playing.

3. Guitar progress killers that make practicing feel like running with your shoelaces tied together. Avoid them & make more progress with anything you practice.
Price: $147