Siberian-born Guitar Practice Expert – puzzled by the useless crap that *still* passes for "guitar speed advice" – tempts you with a crazy offer:

Yo, Buy This Guitar Course.
And If You Don't Smash Your Guitar
Speed Plateau Within 1 Week,
I'LL TEACH YOU 1-1 FOR FREE
Until You Do.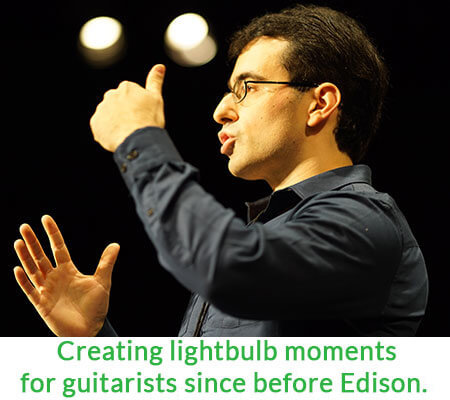 Hey.
Mike Philippov here.
And to quote my PR agent Ron Burgundy*:
(*NO RELATION to the 2004 Will Ferrell movie "Anchorman". STOP ASKING DAMMIT)
I'm Kind Of A Big Deal In The "Make Slow Guitarists Play Fast" World
(Oh, don't worry - I'll prove the sh*t out of that ☝️ brash claim below. Although, if you don't 'already' believe this about me… how did you even get here???)
Anyway...
I created a new (and very expensive) course for smashing guitar speed plateaus, aptly named:
SPEED PLATEAU SMASHER
It costs as much as my famous green Ibanez + a practice amp cost in 2004 $850.)
And I'm beyond confident that Speed Plateau Smasher can help just about anyone smash through their speed barrier on guitar, without putting their life on hold to do it.
How can I be sure?
Well, first - because I made it. And I help guitar players get faster every day.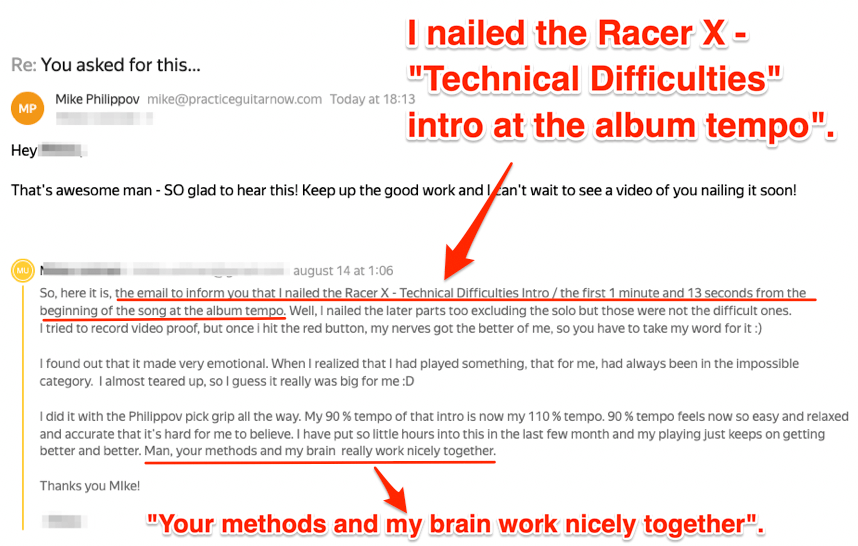 And second, because after you go through this course you'll finally understand:
What The Heck To Do AFTER Traditional Practice Methods STOPPED Making You Faster
Lemme 'xplain:
No matter what approach you've used to build your speed up until now:
- whether it's the good-old "start-slow-af" method
- the "start-with-speed" method (that you switched to after you heard how "slow practice doesn't work"). (Wow, overcorrect much?)
- the "stalk-everybody-with-a-high-speed-camera" method. (Where the camera is ALWAYS pointing at the picking hand for… some reason.) Yeah, really – what's WITH that? Does your FRETTING hand not matter? HELLO???
- or the "anatomy-freak" method. (Where your teacher throws around fancy terms like: "antagonistic muscles" and "potential energy of elastic deformation" to prove he can help you play faster.)
… or some Frankenstein-monster combo of these ideas …
If you aren't seeing the speed gains you want – don't be alarmed.
It's not "you".
Thing is…
Those ☝️ Speed Building "Methods" Are NOT Designed To Turn You (Or ANYONE) 'Into' A Fast Guitar Player.
They are designed to "kinda-sorta" explain 'some' of the things fast guitar players 'do' while they practice.
Which… is ok, as far as that goes…
But as far as helping YOU with YOUR guitar speed…
Most Speed Building Advice ONLY Makes You Faster As Long As Your Speed Problems Are Glaringly Obvious
Take the "start-slow-and-perfect" method, for example.
If your playing is sloppy as hell right now…
… of course you will get faster simply by cleaning up what your hands are doing at slow speeds.
But after awhile, you'll likely realize 2 things:
First, slow practice is boring af.
And second:
There Are Some Purrrrty Important Questions Most Proponents Of "Slow Practice" Don't Have Clear Answers For
Questions like:
- How can you know when you are going slowly enough?
- When should you finally increase the tempo and by how much exactly?

Oh sure, everyone says: "slow down" until you feel "comfortable" or until you can play the lick "accurately" or "with control. But what do "comfort" and "accuracy" mean EXACTLY? Has anyone EVER given you a way to KNOW – without a doubt – that you are playing as slowly and feeling as comfortable and accurate as you need to be?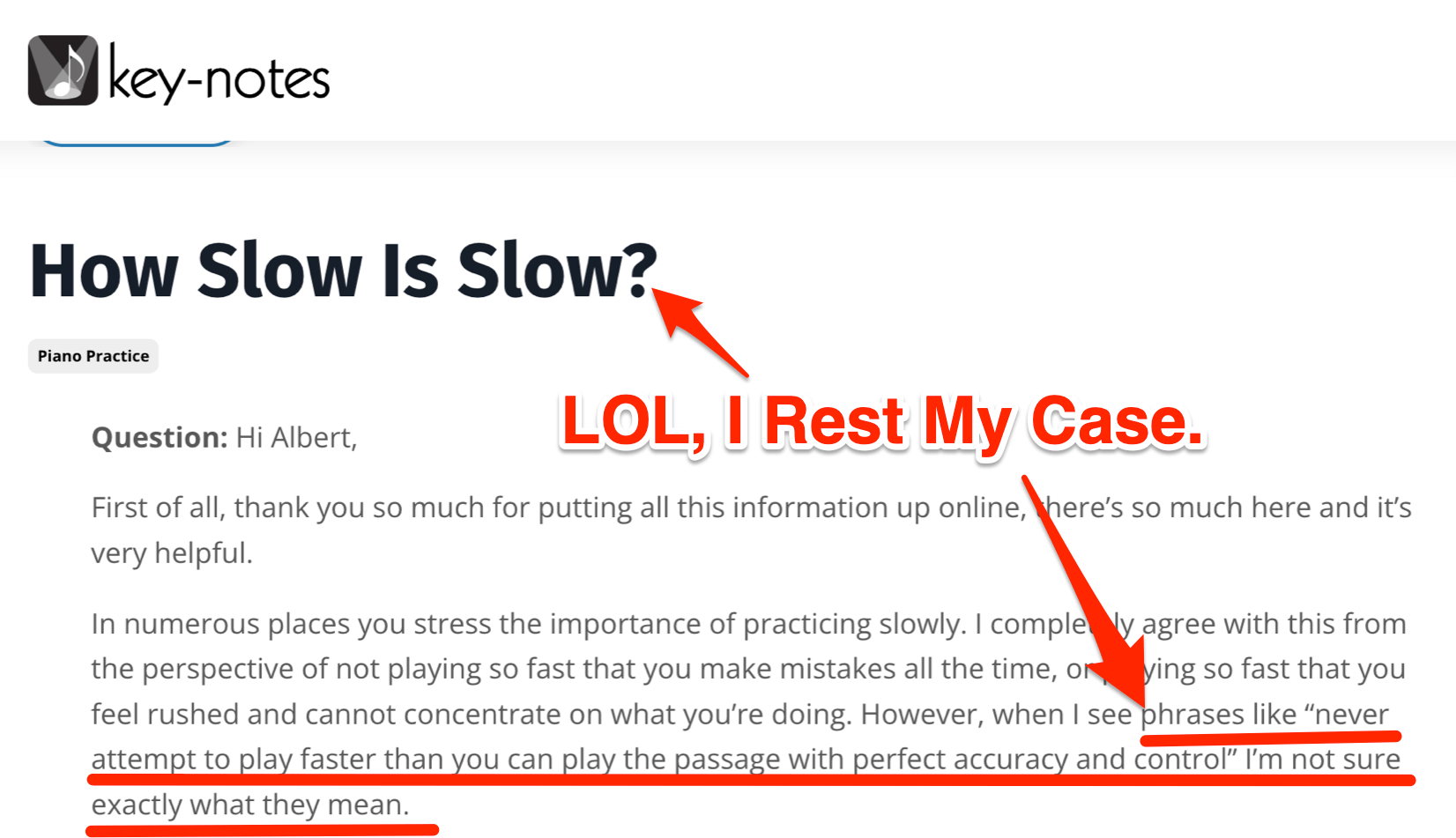 - Can you go *too* slowly?

And most importantly:
How Is Slow Practice Even Useful If Your Motions CHANGE At Higher Tempos?
(… or *DO* they even change?)

Alas...
If You Don't Get (Useful*) Answers To Those ☝️ Questions, Your "Slow Practice" Gains Come To A Dead End.
*"Useful", as in, "do this to find the exact tempo you should practice at. Here is exactly what to do at that tempo and when to speed up. Here is the exact range of how much you can speed up (and why that precise range). Here is exactly what to do if you make mistakes after you speed up or something doesn't work, etc."
And THAT'S when most eager-beaver guitar players hit their first for-real speed plateau.
(Usually somewhere between 90-130 bpm 16th notes.)
So then, what's next?
Well, if you keep searching for more speed advice…
… you'll soon come across guitar speed wisdom "gems" like this:
"Bruh, Forget Slow Practice! Start At Some Fast Tempo You Can't Play – Mistakes Be Damned - And THEN Slow Down To Clean It Up. Das It, Bruh!"
And ☝️ that advice seems to come from a shredder who is SO damn fast...
... his name literally starts with "Sh".
Shawn Lane himself.
(So, you know his advice is as legit as it gets.)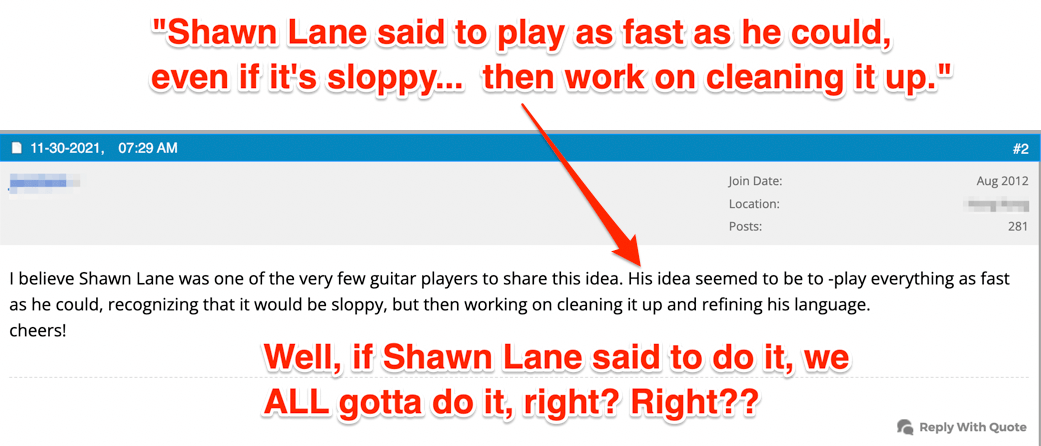 And to be fair…
If you've spent all your time playing slowly…
The first time you "push yourself" out of your comfort zone – you will probably play (a 'lil bit) faster than you could before.
Problem is:
If you think about this "advice" for even 5 seconds, you can't help but wonder:
"Um, Guys? This Makes NO Sense. If That Is 'The' Way To Do it, How Come Every OTHER Fast Player Says To "Start Slow"? Are You All Just Trolling Me, Or What? Btw, How Fast Is "Fast"?"
On top of that…
By telling you to "push yourself" and "forget slow practice" in the same breath…
Do These "Teachers" NOT FREAKING REALIZE They Are Giving You Carte Blanche To Fill Your Playing With All Kinds Of Bad Habits???
What the hell kind of logic is that???
I mean:
You don't have to be Einstein to know it's probably a bad idea to play at speeds where you have no control, your body gets hopelessly tense and your hands fall out of sync.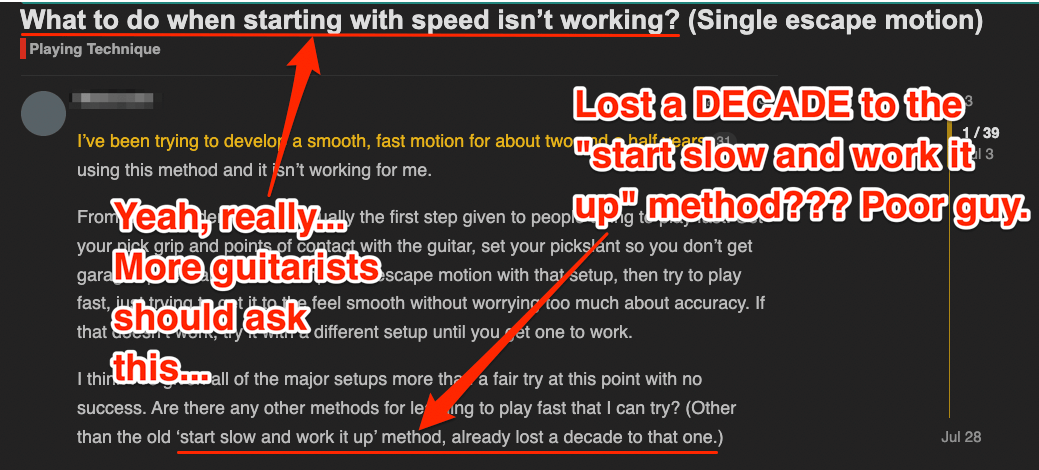 So …
Common Sense Might Tell You To Combine "Slow Practice" With "Pushing Yourself"… Somehow.

Ok - but HOW???
Oops – nobody has real answers to that either.
☝️Except for some sheepish version of: "uhm, w-well… just… slow down a little to get some 'accuracy' (whatever that means) and then push yourself again. But don't do "too much" slow practice, 'cause you see: your slow-speed motions won't work at fast speeds. What's that? "You don't know what tempo is 'slow' and what tempo is 'fast'", you say? Well, fast is - < Brrrrrrrrr-weedly-weedly > that how fast I play. That's fast! And "slow" is… um… well, I don't know what "slow" means exactly. Pfft - what a silly question. Just figure it out, will ya? Kthxbye."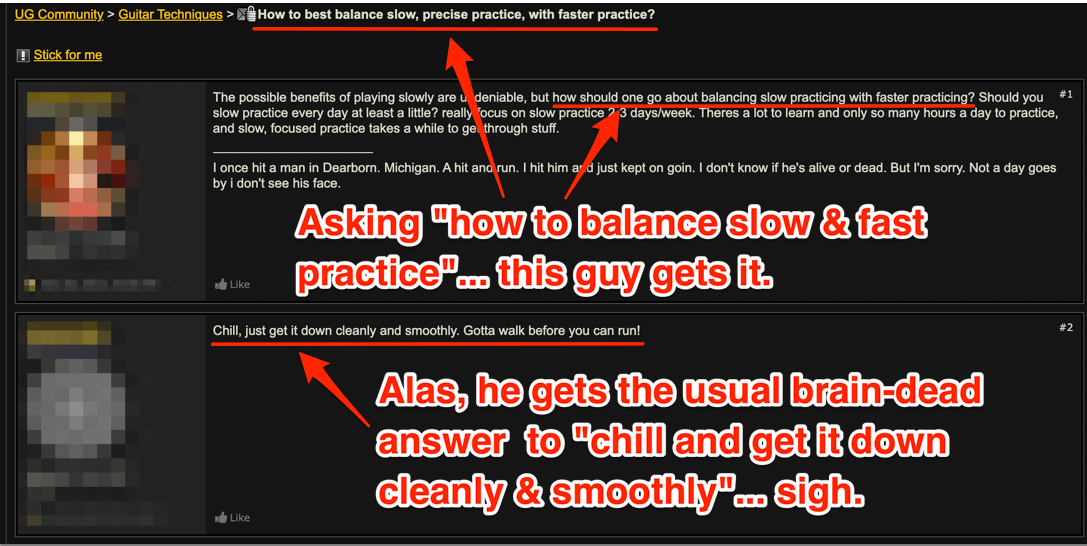 Oooookay…
Let's see… what else is left?
Ah yes…
How could we forget.
Time To Pull Out The Almighty High-Speed Camera And An Anatomy Textbook!
Then get to work on:
Taming your flailing fingers.


Splitting hairs over what pick slanting variations the top shredders use. (Because that's important, you know.)


Learning the difference between Flexor Carpi Ulnaris and Flexor Digitorum Superficialis and their role in forearm supination when picking at supramaximal speeds. [NOT-SARCASM] You simply CAN'T pick fast without knowing that. No-sir! [/NOT-SARCASM]
"And what in God's Petrucci's name could possibly be wrong with doing those ☝️ things", you ask?
Oh nothing, except:
Efficiency Is Just ONE Element Of Guitar Speed
Which means, you will make some gains by focusing on it at first, but...
After awhile, your motions become as small and as relaxed as they're gonna get… but you can still be a LONG way away from playing as fast as you want.
☝️ AKA: The law of diminishing returns kicks in.
And more to the point:
Much Of What Great Players Do To Play Fast Has NOTHING To Do With How They Move Their Hands
For example:
How do they keep their hands IN SYNC when playing fast?


How do they keep excess muscle tension down and make their fast playing look (and feel) SO DAMN EASY?


How do they make their guitar speed usable (so they can play near their best at a moment's notice)?
LOL, Good Luck Picking Up Any Of That ☝️ With A High-Speed Camera.
So…
This is the kind of self-contradicting pile of crap that passes for guitar speed advice these days.
And if you're really ambitious (plus: a little bit lucky)…
… there is a chance you may make enough sense of it to get your speed up to 110… 130… heck, maybe even 140 bpm 16th notes. (On a good day.)
But odds are…
You'll Never Hang Out In The "Past-200-BPM" Club With Yngwie, Paul Gilbert, John Petrucci, Andy James, Jeff Loomis And The Rest Of The Cool Kids.
Fortunately, there IS another way.
A way NOT based on useless questions about other people's guitar speed, like:
"What are 'fast players' DOING to play so fast?"
Instead, it asks:
What Are ALL The Things Guitarists Who CAN'T Play Fast Keep Doing WRONG?
And then…
It gives you solutions for each of those ☝️problems.
Boom.
In my opinion, if more guitar teachers knew how to do THAT, there'd be a lot more fast guitar players in the world.
And solving these problems is exactly what I've been doing over the last 20+ years.
With DAMN good results, I might add.
Both, while training my own students online: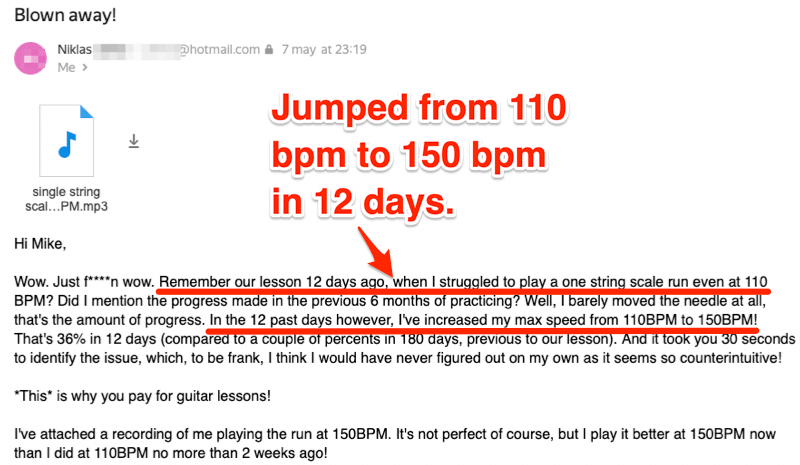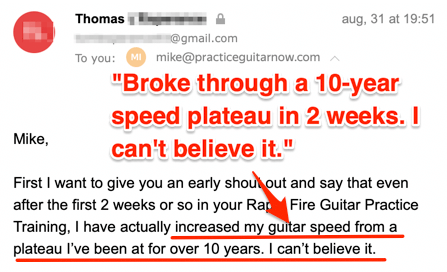 And live, in person – training at guitar technique & speed live events where each student paid thousands of dollars for a seat:

(At events like this, by the way, there is no place to hide if you're not extremely good at what you're doing.)
And Solving Those Problems Is Exactly What My Course Speed Plateau Smasher Is All About!
Here - let me show you:
The first thing Speed Plateau Smasher does for you is help you discover:
The Invisible, Inaudible And Barely Noticeable 'Micro Flaws' That Can Exist Even When You're "Practicing Slowly" And Can "Hear All The Notes".
These ☝️ micro flaws keep you stuck at a certain speed, no matter how much you practice.
But they are often so tiny - you'll never catch them UNLESS you know exactly where to look.
Here is one example of what I mean:
(No, that ☝️ is NOT Speed Plateau Smasher. It's an excerpt from a 1-1 session I do with my RFGPT students). But I "test" everything on my students (thx guys for being such good guinea pigs!) before I make standalone courses on a topic, *like* Speed Plateau Smasher.)
If you ever wondered why you may only be "kinda-sorta" fast with 'one or two' licks, but slow as hell with everything else…
… these micro flaws are to blame.
However...
These micro flaws DON'T *just* exist in your 'technique' (picking/fretting motions).
They also exist in how you (try to) sync your hands up, relax excess tension, control string noise and more.
In fact, there are 7 elements of guitar speed that look 'suspiciously' like a pizza.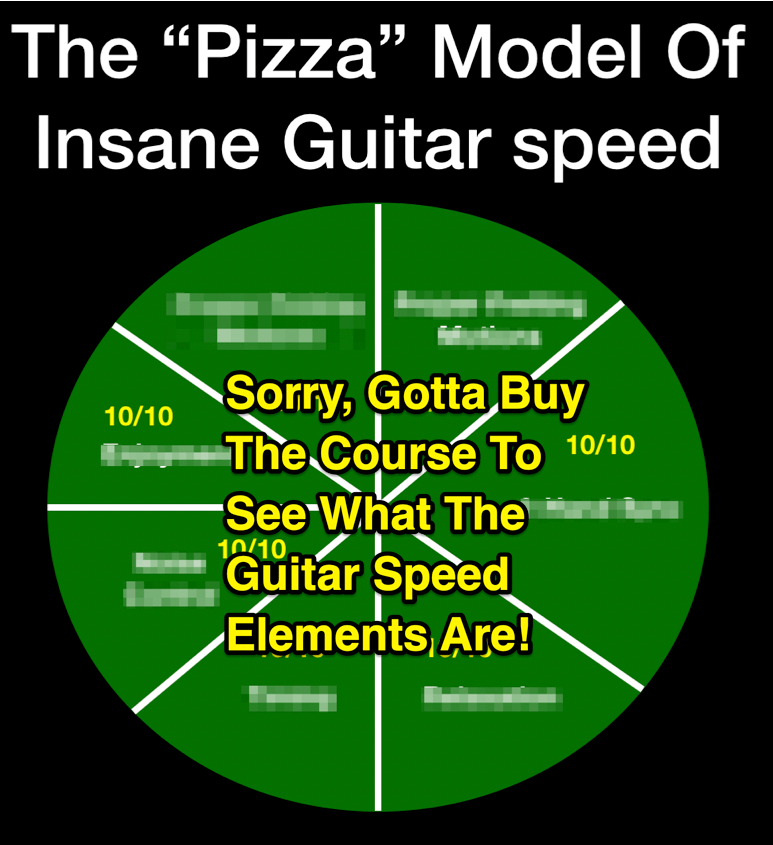 Yeah-yeah, one of ☝️ those "pizza slices" is much bigger than the others. Why? Because that's the one I'm eating, of course. Lol, j/k. If you really want to know why that is, buy the course and I'll explain.

And after you go through Speed Plateau Smasher, you'll know exactly how to spot your micro flaws, almost as well as I do. Because I'll teach you how to:

"Magnify" Your Guitar Playing Micro Flaws (In All 7 Elements Of Guitar Speed), Making Them Easy To See, Feel And Hear… And (Because Of That) – Dirt-Simple To Fix.

And here is something so cool – it may easily be worth the entire price of the course:

I don't *just* teach you how to spot these micro flaws on your own...

… In One Case, I Also – Literally - Do It FOR YOU.

Here is how it works:

As you go through this course, you can send me a tab of ONE lick you want to speed up + a recording of you playing it.

This is the lick we'll use as the benchmark for you "smashing through your speed plateau".

And then – I go to work:

I learn your lick.

I practice it.

I work out the differences between how I'm playing it and how you're playing it.

And then...

I Record A Personal Video Specifically For You, Breaking Down:

- what your 'micro flaws' are

- which parts of Speed Plateau Smasher you specifically need to focus on to make 'em go away.

Then, I send you that video of me practicing your lick "for" you.

Heads up though: I AM going to post your video (and mine) into the member's area for everyone to study and learn from.

If that ☝️ thought (of others seeing you play) scares you so much you don't want to buy this course anymore, whatever – your loss.

(Or maybe just toughen up and stop being a sissy? Just saying :) )

Either way, this is possibly the closest thing in the world to:

Done-FOR-You Guitar Practice. (i.e. I Practice And YOU Get Faster.)

And unlike just giving you "general feedback" on your playing…

Learning your lick FOR you helps me spot and point out flaws in your playing I'd NEVER catch any other way.

Not to mention:

Finding Guitar Speed 'Micro Flaws' Is My Motha-Freaking Superpower.

  I can notice stuff I'm certain NOBODY ever pointed out about your playing...

(For the cheap seats, NO - that ☝️ is also NOT Speed Plateau Smasher. It's an excerpt from a 1-1 session I do with my RFGPT students. But the idea I'm using here is taken DIRECTLY 'from' Speed Plateau Smasher.)

In fact, I'm SO good at it...

I Can Sometimes Spot People's Guitar Speed Micro Flaws WITHOUT Even Seeing Them Play!

Ok-ok, I AM kidding about that ☝️ last claim. Even my powers have limits.

But check out this unsolicited testimonial a guitar player sent me after he improved simply by reading the same web page you are reading now:

(I thought that ☝️ was too awesome not to share here!)

  Either way, this is just a start.

  Because after that, you're ready for the next phase in the course, which is:

Smashing Through Your Speed Plateau By A Margin So Wide – You'll KNOW It's Not A Fluke!

My method for doing this is called:

Contrasting Somersaults

THIS is the method that will actually smash your speed plateau.

And - if you follow it the way I teach – in a pretty stunning way.

(What's that? "Are ☝️ those vids from Speed Plateau Smasher or are they also 1-1s from RFGPT", you ask? LOL wut are you for real )

So, what IS this 'contrasting somersault' method then?

It's an intelligent way to balance practicing fast AND practicing slow in the same practice session.

I say "intelligent", because it eliminates a HUUUUGE chunk of the work, effort and frankly - luck that you'd otherwise need to get faster.