Master Class: How To Permanently Eliminate Bad Habits In Your Guitar Playing So That You Can Get Better Faster
---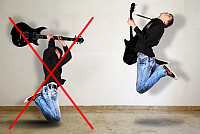 Whether you've played guitar for 1 month or for 30 years, you have 2 constant challenges in front of you.
You want to prevent bad habits from forming & you want to fix bad guitar technique habits you have now.
In this master class you learn a bulletproof guitar practice method to solve even the most deep-seated guitar playing problem or bad habit.
Price: $147